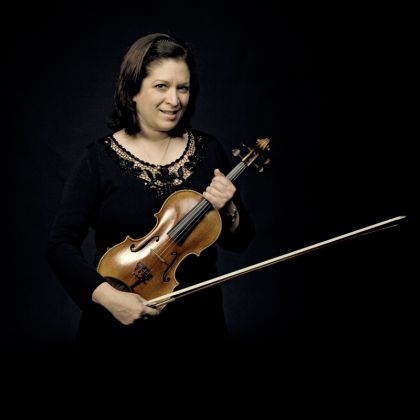 Musician of the OSM since
Previous experience
Began as substitute with the OSM in1988
Orchestre Métropolitain (1991-93) Orchestre symphonique de Québec, substitute (1975-86)
I Musici de Montréal (1987-88)
McGill Chamber Orchestra(1986-93)
Jeunes Virtuoses de Montréal (1986-87)
Orchestre de Radio-Canada (1975-87)
Teaching: Conservatoire du Québec in Trois-Rivières (1988-90)
Conservatoire de musique du Québec à Val d'Or (1985-86)
Université du Québec à Trois-Rivières (1985-94)
École Pierre Laporte, Montréal (1988-94)
Université Laval (1984)
Cégep d'Alma (1983-85)
Academics and teachers
Ph.D. in Music, performance  Université de Montréal with Vladimir Landsman (1990)
Master's in performance at Yale University with Szymon Goldberg and Joseph Silverstein (1981)
Diplôme d'études supérieures and first prize in violin by consensus(1979), Conservatoire de musique du Québec with Claude Létrourneau
Master classes and training with Robert Soëtens (Paris), Ivan Galamian (New York), Yehudi Menuhin (Gstaad), Lorand Fenyves (Banff), Joseph Gingold (Indiana University), at the Mozarteum (Salzburg) and with Guarneri, Fine Arts and Tokyo quartets
Awards and scholarships
Canada Council for the Arts (1979-83, 1986, 1987)
Gouvernement du Québec (1979-82, 1987, 1990)
Yale University (1979)
Association française (1978)
Favorite composers
Bach, Mozart, Brahms, Dvorak and Fauré
Favorite works
All Brahms's chamber music.
Other occupations
Has given recitals in Paris as well as in the U.S. and Canada, including many for Radio-Canada and TV-5. Soloist with CBC Chamber Orchestra.
Anything else you want to share
I like reading, studying foreign languages, great food, arts in general, travelling, gardening, nature and birds.