OSM VOLUNTEER ASSOCIATION


Join a dynamic and enthusiastic team and contribute to spreading to the promotion of classical music and the excellent reputation of the Orchestre symphonique de Montréal!
The Orchestre Symphonique de Montréal Volunteer Committee, established in 1948 by the then OSM General Manager, Pierre Béique, was renamed the OSM Volunteer Association in 2012.  Today, the Association claims more than 130 members.
Since its inception, the Association has played an essential role for the Orchestre Symphonique de Montréal involving itself in the orchestra's musical and educational activities and in providing its support to the various administrative departments.
Whether on a regular basis or more occasionally, volunteers give their support to the OSM activities with enthusiasm and devotion.  In so doing, they contribute to a better appreciation of the classical music repertory and to the preservation of the OSM excellent reputation.
Becoming a volunteer at the OSM could be an exciting experience for those wanting to get involved and to make their skills available to an artistic and musical cause.
For more information, please call 514 840-7400, extension 7439, or email us at benevole@osm.ca.
MAIN ACTIVITIES
Members Services
Welcoming and guiding new members.
Participating in social activities such as the Christmas Lunch, the Fall Meeting and the Spring General Assembly.
Publishing the newsletter Notes four times a year.  This newsletter offers interviews with artists and musicians as well as members' reflections on past accomplishments and challenges.
Keeping the web site current.
Publishing the Association's Annual Report and By-laws.
OSM Services
Artists Transportation: As per the OSM mandate, volunteers provide transportation services to invited artists upon their arrival in Montréal.
Press Reviews: Volunteers scan newspapers and magazines daily to flag the OSM's activities reported therein, thus keeping the Administration and the Archives personnel current.
Maison Symphonique Guided Tours: Volunteers take invited visitors on a discovery of the concert hall, with its superb acoustics features and the spectacular Pierre-Béique Great Organ.
Classical Spree and the Concerts in the Parks: Volunteers are called upon to participate in these Summer symphonic events.
Le Bal des Enfants: Once a year, numerous volunteers contribute to the success of this activity that entertains a great number of children.
Still under the heading of OSM Services, it is to be noted that volunteers play an essential part in providing continued support to all the departments of the OSM.
Education
OSM Manulife Competition: Created in 1940, the competition is opened to young Canadian musicians.  Its purpose is to serve as a stepping stone to international competitions.  Since its beginning, hundreds of laureates have achieved national and international recognition, including numerous OSM musicians.  The work of the volunteers contributes substantially to the success of this event.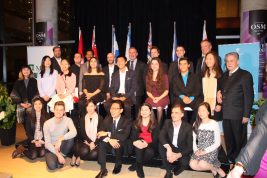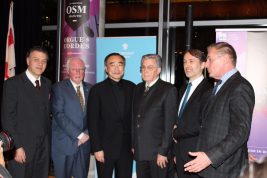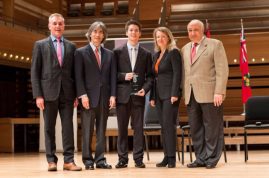 Youth Concerts: Created by Wilfrid Pelletier in 1935, these concerts have helped thousands of students to improve their classical music knowledge in, say, for example, how to distinguish a symphony from a concerto and a violin from a cello. Volunteers visit schools before each concert to raise students' interest and develop their listening abilities.
Symphonic Matinees: These morning concerts are geared to an older audience.  Coffee is served by volunteers before the musical performances.  Secondary school groups are also made welcome.
BOARD OF DIRECTORS 2017-2018
Céline Olivier, présidente
Yolande Bourgoing
Josée Bourdon
Alphonse Chiasson
Alain Côté
Maria Dame
Danielle Gagné
Berverley Goulet
Marie-Lyse Julien-Lescot
Nicole Langevin
Serge Massé
Claude Moquin
Lina Renald
France Tardif
Carmen Trevino
Officer
Gisèle Bellazzi, Accounting Officer
To become a Volunteer
We are looking for volunteers who:
Will respect the Association's code of ethic.
Must be available a minimum of 20 hours each year.
Will pay an annual fee of 40$.
To become a volunteer, contact us at benevole@osm.ca or by phone at 514-840-7400 extension 7439.
It is also possible to consult the Orchestre symphonique de Montréal Volunteers Association at http://www.osm.ca/benevoles